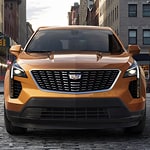 The 2023 Cadillac XT4 is a luxury car that takes you to the next level of driving experience. With its advanced technology features, you can experience convenience, entertainment, and safety like never before.
Adaptive Cruise Control
The Adaptive Cruise Control (ACC) feature of the 2023 Cadillac XT4 helps keep you safe on the road by automatically adjusting your cruising speed to maintain a safe distance from other vehicles in front of you. It also helps reduce driver fatigue as it maintains a set speed, allowing you to relax while on long trips or in heavy traffic.
Night Vision Assist